MAASTRICHT CONGRESS 2017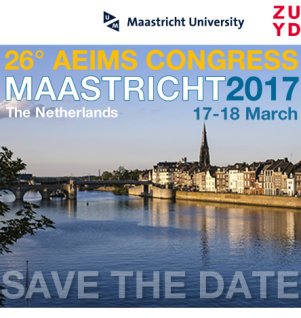 AEIMS
is happy to inform you that the next 26° AEIMS INTERNATIONAL CONGRESS 2017 will be held in Maastricht (The Netherlands) on 17-18 March.
We have invited great speakers to talk about scientific illustration, anatomy, objectivity, surgery and more.
In addition we offer you a unique opportunity: the event is organized in conjunction with the world-famous TEFAF (The European Fine Art Fair
https://www.tefaf.com
), for which presenters and attendants of the AEIMS Conference get free access. This gives people a great opportunity to see or even buy ;-) antique paintings and drawing at the fair (Vesalius, Albinus, Rembrandt, Van Gogh).
PROGRAMME
Available Soon
REGISTRATION FORMS
Available Soon