RAY EVANS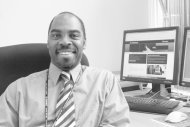 About Ray Evans...
Managing Director, Raymond Evans - is acknowledged as one of the United Kingdom's leading practitioners in the field of facial photo comparison or facial mapping as it has become known. Raymond has been successfully involved in high profile cases both in the UK and the USA and has produced many hundreds of reports and statements. He is regularly called to give evidence in court as an Expert Witness in the field of Facial Identification.
---
For 17 years Ray worked at the University of Manchester and was Manager of the Unit of Art in Medicine in the Faculty of Medical and Human Sciences until its closure in 2008.
In July 2008, Ray moved from the University of Manchester to concentrate full time on developing SRi Forensics, the company he co-founded in 2004, but maintains academic ties with the University of Manchester as a visiting lecturer and honorary research associate in the Department of Psychology.

Ray is also a visiting lecturer at and has been appointed as, the External Assessor for the MSc in Medical Art and the MSc in Forensic Art at the University of Dundee.

---
MEDICAL ART
As a trained Medical Artist, Ray is a member of the Medical Association of Great Britain (MAA) and the Association Européenne des Illustrateurs Médicaux et Scientifiques (AEIMS) for which he is UK Vice President and a long term member of the council of Administration. Ray is one of only a handful of Medical Illustrators proficient enough to be on the register for the Academy for Healthcare Science to meet national standards.

FACIAL IDENTIFICATION
Ray is the Honorary Treasurer of The British Association for Human Identification (BAHID) and a member of the International Association of Craniofacial Identification (IACI).
He was one of those instrumental in founding the Forensic Image Analysis Group (FIAG) where he is currently the Secretary.
He has worked closely with the Criminal Justice services including The Forensic Science Regulator, the Association of Chief Police Officers (ACPO), the Policy making Unit of the Crown Prosecution Service (CPS) and many Police forces, legal firms and Barristers.
CHARITIES
Ray is a Trustee of the 24:7 Theatre Arts Network which is dedicated to providing equitable opportunity for the hidden talents of the professional theatre community in Manchester and beyond.
INTERESTS
Skiing, Football, Tennis, Scuba diving.

---